Welcome to the Paper Puppets Take 2 Wiki!
Paper Puppets Take 2 is a show made by YellowAngiru, who's a 19-year-old boy, capable of pulling of not only male but female voices. He is usually chosen for voice acting in shows, because of his clear microphone and good voice acting! Paper Puppets Take 2 is a show consisting of 22 contestants, fighting for a Million Dollars! Currently 9 episodes (the third one being two parts) are out. Gold Ingot is the host of the show, with his 2 assistants, Loaf and Santa Hat.
Keep in mind that there are spoilers around this wiki so, we recommend that you watch the show first, this also applies to watch the first season as well (despite the wiki name).
Announcement: As of August 31st (the final day of the month) 2020, we have finally reached 100 pages!
(THIS WIKI IS UNOFFICIAL)
Newest episode - Episode 11: "Rainy Day"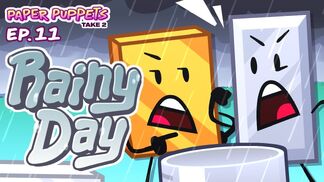 Rainy Day is the 11th episode of Paper Puppets Take 2; released September 5th. The challenge was to fill your team's respective bucket in under the rain.
January's featured page
???
Polls
Official Links